Financial Statement according to HGB Premium
---
☑ Fast and easy payment
☑ Secure payment methods
☑ 256-bit encryption
Financial statement (HGB) Premium

From bookkeeping to annual financial statements according to HGB



Are you already able to book business transactions and would you like to prepare an annual financial statement according to HGB? Then this course is the right choice for you. We will teach you which closing entries you need to make in order to correctly generate a balance sheet and a profit and loss account. We go through the seperate balance sheet items as well as expense and income items in accordance with §§ 266 and 275 HGB. The buzzwords "approach", "evaluation" and "reporting" and their effects on profit, equity and liquidity run through the entire course structure. We have devided the course into modules according to our proven concept, so that you can learn the knowledge on a topic-related basis. With this course, you can look forward to your exams with confidence.

Our services

Our proven concept in facts and figures

Video training
Knowledge in a nutshell. The video trainings last 197 minutes.

PDF slides

Didactically prepared and clear sets of slides, suitable for the video streams. The slide sets have a scope of 303 slides.

Webbased-trainings
Test your knowledge! Get access to 105 professionally coordinated case exercises with detailed solution explanations.

Tutoring support

We support you and answer your questions about the course promptly.

Certificate of Participation

You will receive a meaningful certificate of participation in connection with the course booking.

Access duration

When you book, you will receive access for six months.

Video-trainings


Modular video recordings with highly qualified speakers from the field and corresponding Power Point slides.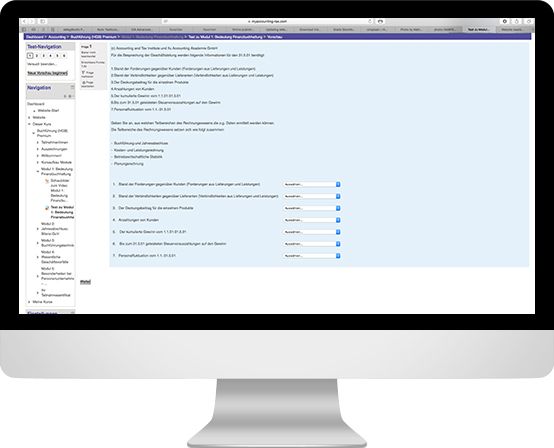 Webbased-trainings


The case tasks are divided into modules. The solutions contain detailed explanations with background knowledge. The tests can be repeated as often as you like. After the test has been submitted, the results are evaluated as a percentage.
The practice cases are based on the level of the exams of the Chambers of Industry and Commerce as well as final exams at universities and were given by speakers with many years of experience created.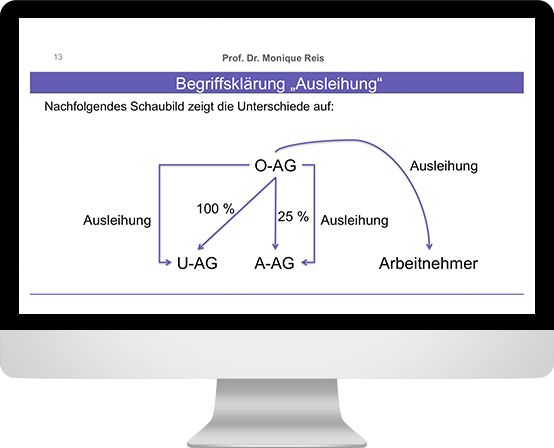 Digital script



The script is divided into modules and is available as a "PDF file" so that the content can be called up flexibly at any time.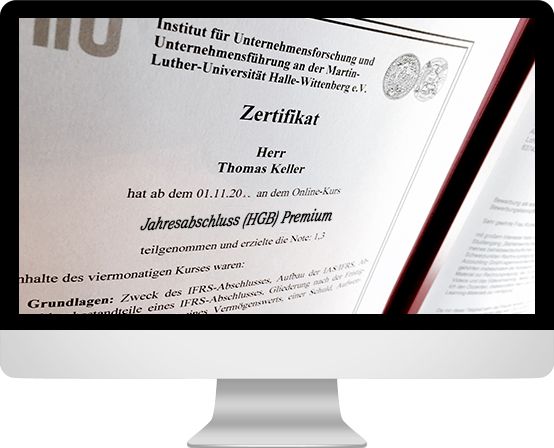 Certificate of participation



A meaningful certificate of participation is available for "download".

Financial Statement (HGB) Premium

Your course content at a glance

Unit 1: Basics

Relationship between commercial and tax annual accounts


Components of a financial statement


Sources of profit/loss in the income statement


"Profit, equity and cash impact" of different business transactions


Nature of expense method/Function of expense method


Cash flow statement


Determination of acquisition and manufactoring costs


Scheduled depreciation


Generally accepted standards of accounting


Disintegration of legal and economic property

Unit 2: Intangible assets

Recognition, initial measurement, subsequent measurement

Unit 3: Property plant and equipment

Initial measurement and subsequent measurement


Scheduled depreciation and impairment loss


Reversing an impairment loss


Disclosure

Unit 4: Financial instruments


Initial measurement and subsequent measurement


Impairment loss


Reversing an impairment loss


Disclosure

Unit 5: Current assets  


Measurement of row material, operating supplies and auxiliaries


Cost formulas and measurement of finished and unfinished goods


Impairment loss


Measurement of receivables

Unit 6: Liabilities

Recognition and measurement of payables


Recognition and measurement of provisions


Discounting issue of provisions

Unit 7: Equity


Partnerships and Corporations: Detailed structure of equity

Unit 8: Special Accounting issues


Foreign Currency Transactions 

Prepaid expenses and taxes, in particular deferred tax assets and deferred tax liabilities


Deferred tax assets in relation with tax loss carryforward